'Auntie Doolie' was Julia Georgina Denniss, auntie to Reginald de Mornay Davies and daughter of Hamson George Denniss. (The following text was typed from her hand-written notes by Reginald de Mornay Davies, Solicitor, Wheathampstead, Herts, her nephew, and converted to HTML by Simon C de Mornay Davies, grandson of R de Mornay Davies)
Haldimand, George married Miss Princep. (Cousin to Papa).
Haldimand, William, never married. Founded a large hospital in Switzerland for Cretins. He was (cousin to Papa) member of Parliament for Ipswich. http://en.wikipedia.org/wiki/William_Haldimand
Marcel, nee Haldimand, sister of the above. Married had a daughter. Wrote "Mary's Grammar", a clever work on chemistry for the young, etc. Daughter married Lord Romilly, Cousin to Papa. http://en.wikipedia.org/wiki/Jane_Marcet
Princep, James, Brother-in-law to George Haldimand. An eminent oriental scholar, who went out to India at an early age as a subordinate in the Mint department at St Benares. In that City he collected a valuable body of observations which he published in a important work entitled "Sketches of Benares". In 1832 he was appointed editor a Calcutta of the "Journal of Asiatic Society" which was produced at Calcutta, to which place he had some time previously moved. In 1832 he succeeded Wilson as secretary of the Asiatic Society. One of the most important of his later researches was the deciphering of some inscriptions which had baffled all previous oriental scholars. He likewise devoted himself to a profound study of Bactrian coins and by his enlightened & indefatigable efforts succeeded in obtaining an almost unbroken series, from the days of the successors of Alexander the Great to modern times. He likewise furnished articles in chemistry, Indian antiquities & mumismatics, to the journal of which he was the editor. B. in England, 1800. D. 1840?. Beeton's Dictionary of Universal Information. Papa's cousin's Wife's brother. http://en.wikipedia.org/wiki/James_Prinsep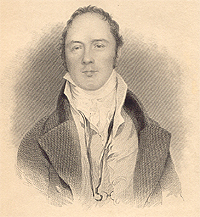 This unattributed etching of Lewis served as the frontispiece to The Life and Correspondence of M. G. Lewis, London: Henry Colburn, 1839.
Lewis, Matthew Gregory (1775 - 1818), wrote "The Monk", in which was the poem so well known of "Alonzo the Brave & the Fair Imogene". For the writing of which book his father disinherited him. He was an English novelist. He was the son of a wealthy man, who was deputy secretary at war. After studying at Christchurch, he went to Germany, where he became acquainted with Goethe & imbibed a taste foe the mysterious & the tragic. The best known of his romances the "Monk", first published in 1794; a worker charged with horrors & libertinism of spirit. He was nevertheless, a kind & charitable man as was evidenced by his treatment of the slaves upon the Jamaica estate he inherited from his father. He was a fluent versifier & his "Alonzo the Brave" & "Bill Jones" are still found to contain interest. In 1818 he produced a drama entitled "Timour the Tartar" & subsequently a work called "Residence in the West Indies" since reprinted in Murray's Home & Colonial Library. Born in London, 1775. Died at sea 1818. Beeton's Dictionary of Universal Information. He had a seat in Parliament. (Papa's father's cousin). https://en.wikipedia.org/wiki/Matthew_Lewis
"From the First Hypertext Edition of Brewer's Dictionary of Phrase and Fable of 1894"
Imogine The lady who broke her vow and was carried off by the ghost of her former lover, in the ballad of Alonzo the Brave, by Matthew Gregory Lewis, generally called Monk Lewis.
"Alonzo the brave was the name of the knight,
And the maiden's the fair Imogine."
~Simon C de M Davies
Pickersgill, Joshua wrote the "Three Brothers". He (Pap's Uncle) was Captain of Native Infantry. Had a great deal to with the Nepaul War.
Denniss, George Hamson
Governor of one of the West Indian Islands. (Papa's grandfather)
(R de M Davies' notes: "This should be Digby, a member of the legislature and not a "Governor")
Warden, Augustus Brook, son of Lieutenant Colonel Warden, married Harriet Georgiana Denniss. Judge in the High Court of Bombay. (Brother -in-law to Papa & Cousin).
Warden, Robert, brother to the above. He was Lieutenant Colonel in the Staff Corps, Bombay; went on the Abyssinian Expedition against King Theodore, a Director of Transport. B. D. Poona, 1869. (Cousin to Papa). Married Kate.
Warden, Frank, Colonel in a Madras regiment, married Priscilla Wilfred (Wilford?) Kensington. Brother to the above. (Cousin to Papa)
Warden, Thomas Smith. Major in the 4th. Bombay Rifles. Married Mary . Brother to the above. (Cousin to Papa)
Warden, Marian. Sister to the above. Married Dr Saunders of Calcutta. She had one daughter, Lucy. (Cousin to Papa)
Warden, William, Son of Frank Warden. Soldier.
Denniss, George Hamson, Lieutenant Colonel of the 43rd Regiment.
Married 1st. and his children were George Glanville, Francis, Edwin Proctor, Thomas and three daughters. (Half brothers & sisters of Papa).
Married 2nd, Harriot Matilda Pickersgill daughter of Joshua Pickersgill. By his 2nd Wife he had 8 children, the following. (Father to Papa)
Denniss, Hamson George, son of the above. Made Knight of "Imperial Order da Rosa" by Pedro II of Brazil, Mexico Province. Also Vice Consul for Hamburg in the whole of Alagoas in Brazil. Married Julia de Mornay. 6 children, also merchant. (Papa). Born in England.

Denniss, Edwin. Died an infant. Born in England.

Denniss, Horatio Torrens. Born at the Cape. Never married.
(This is incorrect. He married Emma Jones. R de M D.)

Denniss, Edmund Pinnock. Born at the Cape. Married Caroline Bartley daughter of General Sir Robert Bartley. 4 children. He died 10th December, 1863.

Denniss, Harriet Georgiana. Born at the Cape. Married Augustus B. Warden. No children.

Denniss, Augustus Digby. Died young.

Denniss, Leslie Daniel. Born at the Cape. Died young. (Brothers & sisters to Papa)
de Mornay, Aristides Franklin. Married 1809, Maria Segar; they had 11 children.
Denniss, Harriet Maria. Born 1847.
Denniss, Julia Georgiana. Born 1849.
Denniss, Katherine Mary. Born 1851 (Mother of R de M D.)
Denniss, Marian Emily. Born 1852.
Denniss, George Hamson. Born 1854.
Denniss, Edward Warden. Born 1865.
Children of Hamson George Denniss & Julia Denniss (nee de Mornay)
Warden, Frederick, Admiral in the Royal Navy. Died 1870? Uncle of Augustus D. Warden.
de Mornay, Julia married Hamson George Denniss, St Paul's Brompton by Mr Wright 22nd Sep. 1846.
Pickersgill, William. Captain of the 15th Native Infantry.? Died just as he was about to obtain his Majority. 1827 or 1828. Married Miss Wilford. 3 children, the following, (Uncle to Papa) Pickersgill, a son who died young.
Pickersgill, Emma married Lieutenant Hamilton. Some children a daughter married a merchant.
Wilfred (? Wilford) Colonel. (Cousin to Papa) Grandfather to Augustus B Warden. Wrote some works on India. Sometime editor of the Delhi Gazette.
1st husband cut his throat while suffering from brain fever.
Pickersgill, Joshua, Grandfather to Hamson George Denniss. Very fond of music. Lived in Italy some time. While in England he and Lord conducted the Italian Opera with great eclat.
Pickersgill, Harriet Matilda, married George Hamson Denniss. She was very beautiful & accomplished, had a lovely voice which was well cultivated. (In pencil, Buried at Marylebone Churchyard, 1854) (The date is 1853, R de M D.)
(Note:- a further list of the de Mornay family)
Wilfred (?Wilford) Misses. One married Mr Davis Commercial man?. Children, one married. (Daughters of Colonel Wilford) (Note the spelling of 'Wilford'. R de M D.)
Wilfred, Priscilla. Married Frank Warden. Daughter of Colonel Wilfred.
(Note:- a further list of the de Mornays)
Bartley, Caroline. Marrried Edmund Pinnock Denniss. Had 4 children.
Denniss, Harriet Jessie.
Denniss, Edmund Robert Bartley.
Denniss, Augustus Brook Warden.
Denniss, Georgiana.
Children of Caroline & Edmund Pinnock Denniss.
(Note:- Here follows a list of Bensons and Montagues whomsoever they are. R de M D.)
Murray, Sir John, commonly called Secretary Murray (of Broughton) (Papa's Great Grandfather)
Murray, Miss. Married Joshua Pickersgill child of the above. Children Joshua, William, a daughter Mary Anne.
Pickersgill, Mary Anne, daughter of Joshua Pickersgill, died young. (Cousin to Papa)
Warden, John Judge. Uncle of Augustus B. Warden. Married 3 times. Died Children by 1st Wife. Children by 2nd Wife.
Warden Son of the above, child by 1st wife.
Signed by Marian E. Denniss.
(She was a sister of "Auntie Doolie. My Auntie "Molly". R de M D.)
Warden, Arthur. Brother of the above, son by the 2nd wife.
Warden, Mary. Married Colonel Furniss. Daughter by 1st wife.
(The following is written in pencil)
Pickersgill, Frances. Going to be married to a Mr Forest Robert, a widower with one eye who was Judge of Corfu but died before, had a brother who fell in love with Harriet Denniss (nee Pickersgill).
Denniss, Thomas brother to George Hamson Denniss. (Uncle to Papa)
Saunders. A cousin of the Haldimands.